Celebrating 25 years of US Footy!
Celebrating 25 years of US Footy!
Shop now for AFL supporter gear, footballs and AFL jerseys!
We are delighted to announce that we are an official apparel supplier of the United States Australian football League (USAFL). The agreement is in place for 3 years through to 2024.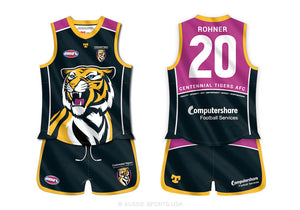 Let us design your next kit!
Our passion is providing quality gear at an affordable price so you can enjoy more of what you love.
If you're looking to outfit your club for next season, we'd love to help you out with some fresh ideas!  We love creating smart, innovative designs to help your team stand out. We don't use DIY templates, we custom design everything to YOUR specifications.
We are proud to be partnered with Australian based Tribal Sport, who offer a quality of apparel like no other. Ask us how to #jointhetribe
Request a Quote
Team Store
Would you like to be able to offer your team's apparel online, raise some money for your club and shirk your responsibilities when it comes to order time? Ask us about setting up your very own Team Store!
Find out more